Whistl celebrates National Apprenticeship Week 2019
March 2019
National Apprenticeship Week takes place from 4th to 8th March 2019 and is designed to celebrate apprenticeships and the positive impact they have on employees. Over the past few years, we have run a successful apprenticeship scheme where staff can gain relevant experience, build contacts and earn a nationally recognised qualification in their current role.

At Whistl we recognise our employee's potential to develop and grow their talent. We want to help nurture them and there is no better way to do so than whilst they are already working in that role. Our apprenticeships are open to new recruits and existing staff, over the age of 16 and working in the UK.

We currently have 27 employees undertaking an apprenticeship across the business, all within different types of roles and areas of the business, from drivers to business administrators, payroll and HR to Team Leaders and more!

In support of National Apprenticeship Week we profiled some of our current apprentices about their experience on our apprenticeship scheme. Anna Choules, a Level 3 HR Support apprentice, used her Whistl apprenticeship to change her career and plug the skills gap present in her new career. Anna "saw this as an exciting opportunity to develop both my theory and practical knowledge." Completing her Level 3 HR support apprenticeship will lead Anna into Level 3 of the CIPD qualification.

Aleksandra Owczarczyk hopes her Business Administration apprenticeship will help her learn to deal with different people and how to efficiently solve problems related to running a busy depot whilst further supporting admin and other health and safety requirements.

At Whistl we offer a variety of apprenticeships across a wide range of roles and hope that with the promotion of National Apprenticeship Week we see more employees take this opportunity with us to grow and develop within our business.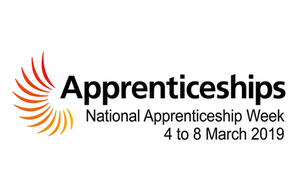 Whether you're new to Whistl, one of our customers or just want to ask some questions we'd love to chat!
Or let us give you some ideas on how we can help you drive your business forward. Tell us a bit about yourself